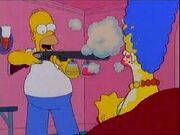 The Makeup Gun is, as implied, a makeup gun which was invented by Homer Simpson. It appears in the episode The Wizard of Evergreen Terrace. The gun was designed for women who only have "four fifths of a second to get ready", a problem which Marge described as "every woman's nightmare". The Makeup Gun also has a 'whore' mode, which Homer accidentally used on Marge.
See Also
Ad blocker interference detected!
Wikia is a free-to-use site that makes money from advertising. We have a modified experience for viewers using ad blockers

Wikia is not accessible if you've made further modifications. Remove the custom ad blocker rule(s) and the page will load as expected.