Home
Talk

279
9,942 articles being
edited here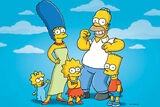 The free encyclopedia for everything related to The Simpsons. The wiki allows anyone to create or edit any article, so everyone can contribute their knowledge to help create a decisive database of Simpsons information.
Due to the excessive amount of pointless trivia, vague categories, and clutter after clutter of pointless images (especially those pertaining to The Simpsons Uncensored Family Album, a new section of regulations has been created in order to keep things organized and purposeful, and to prevent this wiki from falling into a fan-cruft abyss. --Kid Sonic (talk) 00:05, March 27, 2013 (UTC)
Updates

Channel 6 News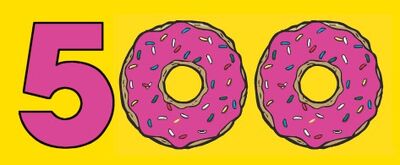 The 500th episode, "At Long Last Leave", premieres on Feburary 19, 2012.
February 14, 2012: Matt Groening received a star on the Hollywood Walk of Fame! Pictures are currently on the official website and a video of the ceremony can be watched on the Upcoming Star Ceremonies page.

Featured article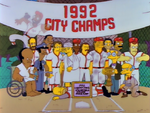 The Springfield Nuclear Power Plant softball team is a team that represents Mr. Burns' nuclear plant in the city softball league. Led by Homer, they do well in the early season and make the championship game against Shelbyville. However, Mr. Burns makes a million dollar bet on the outcome of the game, and decides to ensure victory by bringing in nine Major League players. Homer is replaced on the starting lineup by Darryl Strawberry, and it looks like the team will win without him. However, the Major League players fall to nine separate misfortunes, and Burns is forced to use his old players. In the final inning with bases loaded, Homer gets hit by a pitch, which counts as a hit, and wins the game and the 1992 city championship.
The 1992 team's original lineup consisted of Homer at right field, Lenny, Carl, Charlie, and a number of unknown players. In their opening game against the Springfield Police Department, the Power Plant was down 5-2 in the ninth with bases loaded. Homer went up to bat and revealed his secret weapon - Wonder Bat - to his team mates. They ridicule him, but Homer manages to hit a home run, and wins the game. The team goes on a hot streak, picking up wins against East Springfield, Fort Springfield (by a score of at least 33-7) and Springfield Heights, thanks largely to Homer and his bat.
Eventually, the only team standing between the Plant and the league pennant is Shelbyville Nuclear Power Plant. When they discover this, Mr. Burns, and Shelbyville plant owner Aristotle Amadopolis decide to make a million dollar bet on the outcome..
Read more of this article | More featured articles | Vote for a featured article

Featured episode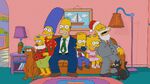 "Holidays of Future Passed" is the ninth episode of Season 23.
At Christmas, 2041, grown-up Bart, Lisa and Maggie bring their kids to Homer and Marge's house. When there, they learn about parenting and loving your family.
Read more of this episode | More featured episodes | Vote for Featured episode
Featured Quote
Featured Song
Everybody Hates Ned Flanders
Everybody Hates Ned Flanders is a song that Homer changed from a Christmas carol to one that expresses his hatred of Ned. At least two additional versions were written, one featuring William Shatner and the other as an "extended Salsa mix". The song was nominated for an Emmy Award in 2003. From the episode "Dude, Where's My Ranch?"
Lyrics
Lenny and Carl: F-L-A,
Homer: His name is Ned!
Lenny and Carl: E-R-S,
Homer: Ned's a stupid name!
It's worse than Frankenstein
Or Dr. No!
David Byrne: You can't upset him even slightly,
He just smiles and nods politely,
Then goes home and worships nightly,
His Leftorium is an emporium of woe!
Did You Know?
From the Simpsons Wiki's articles and resources.
...that Ned Flanders once checked himself into a psychiatric hospital after losing his temper? ("Hurricane Neddy")
...that when Lisa decided to change her appearance, she chose the same appearance as Olivia Newton-John's character Sandy Olsen had in the movie Grease? ("Lard of the Dance")
Suggest a new "Did You Know?"
Help out Simpsons Wiki by creating articles
Poll
(Note: These are guest stars from various seasons. If the poll was renamed, voting would start over, so we will leave it as is for the moment.)
Which was your favorite guest star from various seasons?
Suggest a new poll • Previous polls
Need Help?

If you're having trouble with the site and don't understand how to use it, don't be afraid to ask! Our administrators won't bite. If you wish to join or have any queries about editing than feel free to browse through our expansive tutorial: Help
However, if the tutorials are too confusing, then feel free to message one of our four administrators. Just leave a message on their talk page, and we will be sure to help you as soon as possible.
Editor of the Month

Join and you can be apart of our monthly competition! This competition involves everyone from the wiki competing for the prestigious award of Editor of the Month. If you can make edits that BENEFIT this wiki the most, you can win our award and go into wiki history as one of the best! We also have a range of other awards and competitions. To find out how to enter follow the link: Simpsons Wiki: Editor of the Month.
Chat
Want to chat with your fellow Simpsons Wiki members? Have a quick question you need answered? Click here to join our Chat channel. (Opens a new window and connects you to our on-wiki Chat.)
Featured pictures
Browse