Madame Chao's restaurant is a fine dining restaurant in Capital City.
History
While at the National Energy Convention, Homer and Mindy Simmons win a free dinner at Madame Chao's. As Mindy reports, the two have a great dinner. She also says they were lucky they cooked cheese burgers for them. Homer is nervous because of his temptation to cheat. He receives a fortune cookie. The fortune cookie encourages him to cheat on Marge. Homer takes this as a very strong sign. In the back one of the waiters reports there are no more 'new love' cookies, so the second waiter tells him to open up the 'stick with your wife' cookies.[1]
-Madame Chao is likely a pun on Madame Mao, the popular sobriquet of Jiang Qing, the wife of Chinese leader Mao Zedong.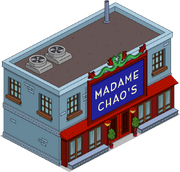 Appearance
Citations
Ad blocker interference detected!
Wikia is a free-to-use site that makes money from advertising. We have a modified experience for viewers using ad blockers

Wikia is not accessible if you've made further modifications. Remove the custom ad blocker rule(s) and the page will load as expected.