Ad blocker interference detected!
Wikia is a free-to-use site that makes money from advertising. We have a modified experience for viewers using ad blockers

Wikia is not accessible if you've made further modifications. Remove the custom ad blocker rule(s) and the page will load as expected.
"You know, a town with money's a little like the mule with a spinning wheel. No one knows how he got it, and danged if he knows how to use it!"
―Lyle Lanley
Lyle Lanley is a con artist and shyster who sold faulty monorails to several towns, including Springfield.
The "marks" in Lanley's con scheme were towns with a lot of money. Lanley would visit a town and make a sales pitch for his monorails. After the town bought the monorail, Lanley would open a monorail conductors' training school, which was really a farce and provided very little in the way of real training. At the end of the school, Lanley would either select a random student or the least qualified in the class to be the conductor (his exact decision-making method isn't known, but implied to choose a drunk conductor that is least qualified to help cause the accident).
After the monorail was built and a conductor selected, Lanley would set up a huge opening ceremony with a celebrity presiding, then leave (with the town's money) while everyone's attention was focused on the opening ceremony and the celebrity. The monorail, due to shoddy materials, would typically crash on its first run, causing loss of life and extensive property damage, and leaving the town financially ruined. Meanwhile, Lanley would be living it up on a resort vacation -- bought and paid for with the "mark" town's money. However, he was left unaware that the only people who can stop him were the ones who suspected him from the start: Marge and Lisa.
Lyle Lanley: Well, sir, there's nothing on earth like a genuine, bona fide, electrified, six-car Monorail! What'd I say?
Flanders: Monorail!
Lanley: What's it called?
Patty & Selma: Monorail!
Lanley: That's right! Monorail!
[crowd chants 'Monorail']
Miss Hoover: I hear those things are awfully loud...
Lanley: It glides as softly as a cloud
Apu: Is there a chance the track could bend?
Lanley: Not on your life, my Hindu friend.
Barney: What about us brain-dead slobs?
Lanley: You'll be given cushy jobs
Abe: Were you sent here by the devil?
Lanley: No, good sir, I'm on the level.
Wiggum: The ring came off my pudding can
Lanley: Take my pen knife, my good man
I swear it's Springfield's only choice
Throw up your hands and raise your voice!
All: Monorail!
Lanley: What's it called?
All: Monorail!
Lanley: Once again...
All: Monorail!
Marge: But Main Street's still all cracked and broken...
Bart: Sorry, Mom, the mob has spoken!
All: Monorail! Monorail! Monorail!
[big finish] Monorail!
Homer: Mono... D'oh!
In Springfield
Edit
In Springfield, Lyle Lanley interrupted a town meeting when the people were trying to decide how to spend three million dollars the town had collected in fines from Mr. Burns. The town was on the verge of voting to use the money to repair Main Street when Lanley successfully made his sales pitch for the monorail. At the conductors' training school, Lanley chose Homer Simpson to be the conductor, seemingly at random as he (Lanley) walked out the door on the last day of class.
Lanley catches Marge looking at his notebook, but she claims she was just looking around from a lack of sleep from her housework. He buys her story and lets her leave, unaware that Marge had caught on to his plan. The monorail opening ceremony featured celebrity guest Leonard Nimoy, who wowed the townspeople by joking that the monorail could do at least Warp Five. Catching Lanley trying to sneak away with the money he embezzeled from Springfield, Lisa tries to stop him by convincing him to ride the monorail himself. He rudely refuses and takes off in his cab, leading Lisa to notify Marge. After the first run started, the monorail's throttle broke and its brakes failed, leaving the monorail speeding out of control.
When Marge returns to Springfield with Sebastian Cobb, they and Lisa try to help Homer by using the main control towers for the monorail. However, they find that Lanley intentionally ruined the system except for the radio. Monorail conductor Homer saved the day when Cobb suggest that he uses an anchor. He took the "M" from the "Monorail" sign and used it as an improvised anchor with a rope, embedding it in a giant metal donut atop a donut shop and stopping the monorail without serious injury to the passengers.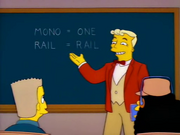 Lanley, meanwhile, boarded a plane for Tahiti, looking forward to his next vacation. His plans went awry, however, when his flight made an unscheduled stop in
North Haverbrook
, one of his previous monorail "mark" towns. Apparently alerted to Lanley's presence by Marge and Cobb, a crowd of locals boarded the plane and attacked him, at least beating him up as Lanley was heard screaming and the plane was seen rocking back and forth.
[1]
.
The Simpsons later watched a home video of him because they were showing clips of songs and that video contained his song, Monorail.[2]
Despite the beatdown, he survived, and made an appearance in Sky Police.
North Haverbrook (Some time after Lyle Lanley was attacked and beaten on the plane, the town recovered from the monorail disaster[3].)
Springfield (Disaster was averted when monorail conductor Homer Simpson stopped the monorail using an improvised anchor and Marge catching on to his true motives)
In costume and motivation, he is very similar to Harold Hill in the musical The Music Man, not to mention the fact he talks in song.
Appearances
Edit
Citations
Edit