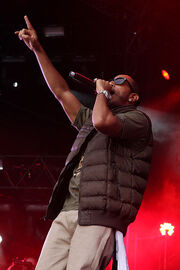 Ludacris
, Born September 11 1977 real name Christopher Bridges, is a rapper. He appeared on The Simpsons in the 400th episode,
You Kent Always Say What You Want
, in two roles: the first being the main protagonist in "
Menace Tooth Society
" (named "Luda-Crest"), and the second as himself. The latter showed him slamming a dentist against a wall in anger, telling him that the film was supposed to be shown only "one time in Canada", and that the dentist is to expect "a letter from Cap-In-The-Ass Productions and its head legal counsel, Miss Berlissa Burlegame!" He also sang the song
Luda-Crest Wisdom
in the episode.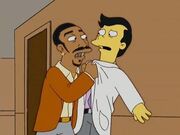 | | | |
| --- | --- | --- |
| | D'oh! | This article is a stub. You can help the wiki by embiggening it. |