Lotto 'N' Liquor is a shop in Springfield that sells lottery tickets and alcohol.
History
The shop was seen across the street from the 50th building of Sleazy Sam's Payday Loans and next to Bail Bonds and Beyond.
Appearances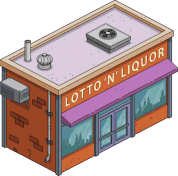 Ad blocker interference detected!
Wikia is a free-to-use site that makes money from advertising. We have a modified experience for viewers using ad blockers

Wikia is not accessible if you've made further modifications. Remove the custom ad blocker rule(s) and the page will load as expected.