Little Pwagmattasquarmsettport is a town that is either in or somewhat close to Springfield's State and is the location of the Flanders' beachside cabin, although it was briefly occupied by the Simpson family when Flanders loaned it to them due to being assigned Jury Duty. According to Marge, it is known as "America's Scrod basket". Kids in the town often spend time under the pier and skateboarding. The sale of fireworks is also illegal, to which the penalty if caught is a fine (although the exact amount was never specified, as the shop owner of the Li'l Valu-Mart immediately directs Homer to the backroom illegal fireworks section before he finished the warning as soon as the only customer other than Homer Simpson left the premises).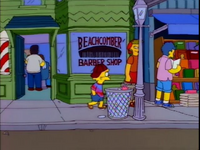 Places
Stores and facilities seen in Little Pwag:
Being a seaside town, Little Pwag contains many beaches and a large boardwalk section. A funfair is open in Little Pwag every summer.
Appearances
Ad blocker interference detected!
Wikia is a free-to-use site that makes money from advertising. We have a modified experience for viewers using ad blockers

Wikia is not accessible if you've made further modifications. Remove the custom ad blocker rule(s) and the page will load as expected.