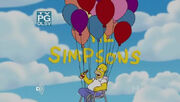 When The Simpsons Opening Sequence was reanimated for its conversion to high definition in 2009, initially, during the screen showing the title, only one gag was used: a three-eyed crow would fly by it. Starting with Season 21, the gag would become a changing gag for each episode just like the billboard gags, the chalkboard gags, and the couch gags. There is also a title screen gag in the movie.
Ad blocker interference detected!
Wikia is a free-to-use site that makes money from advertising. We have a modified experience for viewers using ad blockers

Wikia is not accessible if you've made further modifications. Remove the custom ad blocker rule(s) and the page will load as expected.