The Simpsons has spawned a lot of merchandise, so much that it is nearly impossible to document it all.
Books
Bart Simpson's Guide to Life
Comics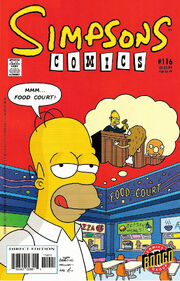 See also: List of Publications
Calendars
See List of Calendars
Video and Computer Games
see also: List of Video Games
Handheld/Mobile Games
see also: List of Handheld Games
Arcade Games
The Simpsons Arcade Game
The Simpsons Pinball Party
see also: List of Arcade Games
Board Games
The Simpsons Monopoly
The Simpsons Clue / The Simpsons Cluedo
see also: List of Board Games
Trivia Games
The Simpsons Ultimate Trivia Game
see also: List of Trivia Games
Card and Domino Games
see also: List of Card and Domino Games
Puzzles
All About The Simpsons Jigsaw Puzzle
see also: List of Puzzles
Electrical Products
Kitchen Appliances
See: List of Kitchen Appliances
DVDs
See also:List of DVDs and Videos
Seasons
Other
Bart Wars
Christmas with the Simpsons
Seasonal and Birthday
Loads of Christmas and Birthday cards
Various wrapping paper
Party Stuff
Clothing
Various
Socks
Underwear
Pyjama's
T-Shirts
Jumpers
Other
Homer Simpson Bottle Opener
Ad blocker interference detected!
Wikia is a free-to-use site that makes money from advertising. We have a modified experience for viewers using ad blockers

Wikia is not accessible if you've made further modifications. Remove the custom ad blocker rule(s) and the page will load as expected.