Lisa on Ice
Talk

1
16,191 articles being
edited here
"Ralph, you're failing English."
"Me fail English? That's unpossible!"
"Lisa on Ice" is the eighth episode of Season 6. It aired on November 13, 1994. The episode was written by Mike Scully and directed by Bob Anderson. The episode features references to films such as Rollerball and The Pope of Greenwich Village.
Lisa is failing gym. To make up the grade, she joins a pee-wee hockey league. Soon, her team must face off against Bart's, putting them in direct competition.
Full Story 
Edit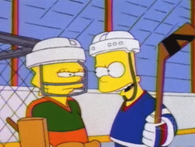 Due to impossibly low test scores, Principal Skinner starts to give out academic alerts so the children's parents can know they're doing poorly. After a series of kids receive their alerts, Lisa is called up, shocking everyone. It is then revealed that she is failing gym. Lisa, terrified, goes to her PE teacher and is told to join a Pee-Wee team outside of school. After a sequence of failed attempts at sports, Lisa finally joins a hockey team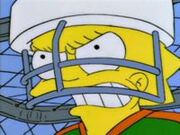 sponsored by Apu—which just happens to be Bart's rival team. After Lisa excels at both sports and school, Bart thinks he must become a scholar. This doesn't work out, as he been slacking off in school for his whole life. This leads to a rivalry between the entire family, and when Lisa and Bart play each other, it gets down to the wire, with the stadium split between Bart fans and Lisa fans. However, when Bart is chosen to take the penalty shot against Lisa, the goalie, they both reminisce about how they helped each other as younger kids (Lisa giving Bart a bandage after he falls off his bike, Bart giving Lisa one of his scoops of ice cream when hers falls on the ground). Bart and Lisa both throw their hockey gear on the ground and hug. Homer then remarks that they are both losers and the whole stadium erupts into a riot.
Citations
Edit