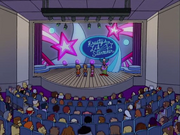 Li'l Starmaker was a competition held by Krusty in The Simpsons in the episode A Star is Torn. The winning prize was to appear in an Itchy & Scratchy episode. The winner was Lisa Simpson with the song Always My Dad. The second place was earned by Johnny Rainbow (Cameron), managed by Homer Simpson, with the song Privileged Boy.
Auditions
In the auditions, every single Springfield boy and girl sang. In it, you have to sing a song and the best contestants make it through to the final. The known auditioners were:
Mark that the Aplaussometer gave the contestants. (1-13)
Finals
In finals, the best kids were chosen and desqualified to reach to the final 2. The ones that lost were trapped in the Buzz-Cola trap, they never cleaned.
Top 9
Top 8
| Contestant | Song (original artist) | Result |
| --- | --- | --- |
| Cameron | - | Safe |
| Lisa Simpson | - | Safe |
| Clarissa Wellington | - | Safe |
| Paul Simon | - | Safe |
| Contestant #5 | - | Safe |
| Contestant #6 | - | Safe |
| Contestant #7 | - | Safe |
| Contestant #8 | - | Eliminated |
Top 7
Top 6
Top 5
Top 4
Top 3
Finale
Elimination chart
| | | |
| --- | --- | --- |
| Performance Not Shown | Safe | Eliminated |
Stage:
Finals
Week:
Top 9
Top 8
Top 7
Top 6
Top 5
Top 4
Top 3
Finale
Place
Contestant
Result
1
Lisa Simpson
Winner
2
Cameron
Runner-Up
3
Clarissa Wellington
Elim
4-8
Paul Simon
DQ
Unknown
Elim
Elim
Unknown
Elim
Elim
9
Katy Anderson
Elim