Leopold is Superintendent Chalmers' assistant. He is a large, surly, snarling man. When Principal Skinner had to be replaced, Leopold stomped in, issued several threats, and horrified the children, making them think he was the replacement, and then suddenly politely introduced the actual substitute, Ned Flanders. The children then collectively sighed with relief. The gag was repeated when Marge Simpson became a substitute teacher when the teachers go on strike.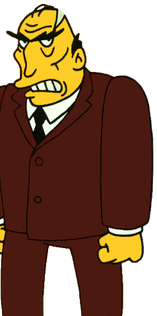 Behind the Laughter
He is one of the few characters on The Simpsons to have eyebrows.
A similar gag was used in Mayored to the Mob when Leavelle starts berating his students, and makes it seem as though his students are going to fail his academy, he then suddenly tells them that they've graduated from his class.
Appearances
Ad blocker interference detected!
Wikia is a free-to-use site that makes money from advertising. We have a modified experience for viewers using ad blockers

Wikia is not accessible if you've made further modifications. Remove the custom ad blocker rule(s) and the page will load as expected.