"The lemon tree's gone!"
"Lemon of Troy" is the twenty-fourth episode of Season 6. It aired on May 14, 1995. The episode was written by Brent Forrester and directed by Jim Reardon. Its title is a reference to Helen of Troy, the woman in Greek mythology over which the Trojan War started.
Synopsis
The children of Springfield wage war on Shelbyville, after their beloved town lemon tree comes up missing. The fathers of Springfield take Ned's RV to search for their boys and bring back their lemon tree.
Full Story
Marge catches Bart writing his name in wet cement, and lectures him on town pride. Her method of repeating herself during the speech causes her words to stick in Bart's mind, and he soon begins to learn more about the City of Springfield.
Bart soon comes across Milhouse, who is selling lemonade. When the supply runs out, Milhouse takes Bart to the town's beloved lemon tree. As Bart remarks how great Springfield is, they encounter some kids from Shelbyville. After a brief verbal bout, the kids from Shelbyville leave. The Springfield kids then notice Grandpa Simpson, who tells them the story about the lemon tree.
The land the lemon tree was planted on was where town founders Jebediah Springfield and Shelbyville Manhattan first settled. However, Shelbyville was adamant that he live in a town that gave a person the right to marry their cousins. This did not sit well with Jebediah, and each man took settlers and formed their own respective towns. The citizens of Springfield planted the lemon tree, since lemons were the sweetest fruit available at that time.
Sometime afterwards, the boys return to the lemon tree, only to find it has been stolen, with some tracks leading right into Shelbyville. Bart, Milhouse, Nelson, Martin, Todd, and Database head to Shelbyville to get the tree back. When Marge finds out what Bart is up to, she gets Homer and several other parents to go to Shelbyville and find them (with Homer insisting Ned Flanders drive them in his RV. The boys eventually find the tree, but it's in the car-impound lot being guarded by the Shelbyvillian boys. When the parents eventually find the kids, Bart tells them what happened and Homer demands the owner of the impound lot return the tree. His request is laughingly refuted, and everyone begins to return to Springfield. Bart soon hatches a plot.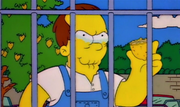 Bart tells Flanders to illegally park his RV, which then gets impounded. After a close call, they take the lemon tree back to Springfield. In the aftermath, old men in both Springfield and Shelbyville provide their own endings to the tale. In Springfield, Grandpa tells of the triumphant return of the tree by the 'heroes of Springfield', to which Bart and Milhouse celebrate with a glass of lemonade (from a few drops of lemon juice, and a whole lot of sugar). In Shelbyville, an old man claims a triumphant banishment of the old lemon tree by 'the heroes of Shelbyville', claiming the old lemon tree was banished because it was haunted. He and several other children then drink some turnip juice, which has a sour taste.
Reception
Lemon of Troy finished 55th in the ratings for May 11 to May 17, 1995, with a Nielsen rating of 8.1. It received mostly positive reviews from TV critics.
Citations
Ad blocker interference detected!
Wikia is a free-to-use site that makes money from advertising. We have a modified experience for viewers using ad blockers

Wikia is not accessible if you've made further modifications. Remove the custom ad blocker rule(s) and the page will load as expected.