18,197 articles being
edited here
Talk

0

The Leftorium is a store in the Springfield Mall that specializes in products for left-handed people.
The store is owned by Ned Flanders who quit his job as a clerk for a pharmaceutical company and opened The Leftorium. At first, business at the store was going very poorly due to Homer secretly wishing that Flanders' store would go out of business. Homer got his wish and the Flanders family were forced to sell their possessions (much of which Homer purchased at the price of $75), the bank repossessed the Flanders home, and the store was about to close. Homer then regrets making this wish and he regrets he never told any of his friends who were in need of left-handed items about The Leftorium. To atone for his actions, Homer manages to get everyone he knows in town to shop at Ned's store, effectively saving it from bankruptcy.
The Leftorium was looted by a mob, after a hurricane struck
Springfield
.
[1]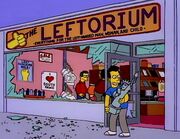 The Leftorium has continued to trade profitably since this, however there have been episodes where Flanders has mentioned the store doesn't do that well. Ned once mentioned that he purchased most of his possessions cheaply to make up for his store's lack of business.[2] Later, Ned mentions how a mega left hand store recently opened, called Left-Mart, is threatening his business.[3] It has bullet proof windows. Some people consider it a "rip-off" due to the items only being called left handed, (left-handed remote control, left-handed pen, left-handed cellphone, etc.). Eventually Ned had to downsize to a simple kiosk, the Leftorium Express due to the success of a nearby competitor, Southpaw Superstore.[4] However in the episode Opposites A-Frack Ned is seen in his store again.
Behind the Laughter
Edit
The abundance of left-handers in Springfield is most likely due to their creator, Matt Groening, being left-handed. Groening revealed in the DVD commentary for When Flanders Failed that about 1 in 3 Springfieldians are left-handed, as compared to about 1 in 9 in real life.
Appearances
Edit
Reference
Edit