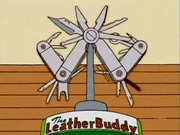 The Leather Buddy multi-function knife is a pocket knife full of gadgets and accessories inside. Bart bought one for Homer for Father's Day and he liked it so much he pictured himself rescuing Marge from pirates on a ship by unscrewing a post using the knife.
These are the things inside the knife:
A wrench
A mini-umbrella
A troll doll
A plunger
A remote control
A whisk
A cellphone
A weathervane
A trumpet
A gun
Appearances
Ad blocker interference detected!
Wikia is a free-to-use site that makes money from advertising. We have a modified experience for viewers using ad blockers

Wikia is not accessible if you've made further modifications. Remove the custom ad blocker rule(s) and the page will load as expected.