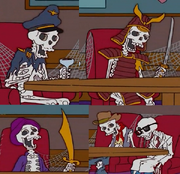 The League of Evil was a group of evildoers that Mr. Burns had. The group died from lack of oxygen.
History
Mr. Burns wanted to use them to win his war with Lisa Simpson. However, when he opened a secret room at Springfield Nuclear Power Plant where they all were trapped, he discovered that the group died from lack of oxygen. He then ordered Waylon Smithers to collect their watches.
Appearances
Ad blocker interference detected!
Wikia is a free-to-use site that makes money from advertising. We have a modified experience for viewers using ad blockers

Wikia is not accessible if you've made further modifications. Remove the custom ad blocker rule(s) and the page will load as expected.