Lamborgotti is an Italian car manufacturer. The company's slogan is "For people who really have nothing inside."
Lamborgotti produces the sports car, the Lamborgotti Fasterossa, among other models. The Fasterossa itself comes in both fixed-top and convertible versions.
Homer and his family once went to Italy to collect a Lamborgotti Fasterossa for Mr. Burns.
Behind the Laughter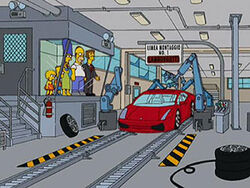 See Also
Appearances
Ad blocker interference detected!
Wikia is a free-to-use site that makes money from advertising. We have a modified experience for viewers using ad blockers

Wikia is not accessible if you've made further modifications. Remove the custom ad blocker rule(s) and the page will load as expected.