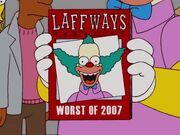 Laff Ways Magazine is a magazine about comedy.
History
While robbing the First Bank of Springfield, Dwight Diddlehopper took hostages inside and told them that he would let them alive if there weren't any funny stuffs. Krusty the Clown who was one of the hostages said that he was voted America's least funny clown in Laff Ways. He was worse than Scuzzo, Scummo, Oopsie, Carlos Mencia, Stinko, Blumpy and even Sergeant Serious. Krusty wondered how he could be worse than Sergeant Serious when he stole all of Sergeant's jokes.
Appearances
Ad blocker interference detected!
Wikia is a free-to-use site that makes money from advertising. We have a modified experience for viewers using ad blockers

Wikia is not accessible if you've made further modifications. Remove the custom ad blocker rule(s) and the page will load as expected.