LGBT characters
17,793 articles being
edited here
Talk

10
A number of people have been identified as (or implied to be) lesbian, gay, bisexual or transgender (commonly abbreviated LGBT).
Hinted to be Lesbian
Edit
Openly gay characters
Edit
In the closet
Edit
Hinted to be Homosexual
Edit
Transsexual
Edit
Hinted to be Transsexual
Edit
Bisexual
Edit
Lady Gaga -She's openly bisexual in real life (which is hinted in the hit single "Poker Face") and even kisses Marge Simpson in Lisa Goes Gaga, much to Marge's surprise.
Rainier Wolfcastle - openly bisexual since he has his early gay porn films located within his bedroom.
Hinted to be Bisexual
Edit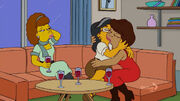 The first, the second and the third of The Cool Moms - They all are married and have sons, but when Marge abandon the club, they start kissing and hugging each other.[35]
Shauna - She is implied to be bisexual as Dolph said that she invited 200 guys and 7 girls to make out with her via a SpringFace message. 
Bart Simpson - In "Mom and Pop Art " when Homer asks Lisa and Bart to make him mad Bart states "Well I'm flunking math. And the other day I was a little attracted to Milhouse ." This is questionable though as Bart could just be saying this to stir up his dad. It should also be noted that Bart has been attracted to many girls throughout the series. 
See also
Edit
Citations
Edit