The L.A. Body Works is a health club in Springfield.
History
Marge gave the L.A. Body Works a try when she was trying to lose weight and was looking for a gym to join. She felt self-conscious when she noticed she was the only one having trouble with the treadmill, and decidedly out of place when she saw that everyone else had above-average physiques.
After her workout, Marge took a relaxing shower, only to find that her shower stall had a full-length window facing the street, providing passersby with a complete view of her, leaving her self-conscious.
The experience convinced Marge that the L.A. Body Works wasn't the gym for her, so she decided to create Shapes.
Known members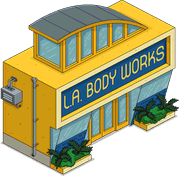 Behind the laughter
The L.A. Body Works is a parody of the health club chain LA Fitness.
Appearances