| | | |
| --- | --- | --- |
| | D'oh! | This article is a stub. You can help the wiki by embiggening it. |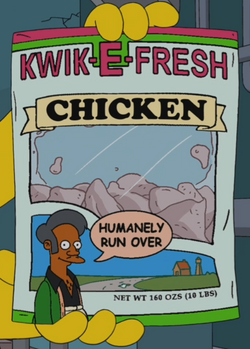 Kwik-E-Fresh Chicken is a poultry product from the Kwik-E-Mart.
History
When Homer tries to sabotage the Springfield Nuclear Power Plant he uses a concoction of "spoiled milk and utility-grade chicken" as a repugnant substance to put into the air-conditioning. Kwik-E-Fresh Chicken is that "utility-grade chicken".[1]
Appearances
Citations
Ad blocker interference detected!
Wikia is a free-to-use site that makes money from advertising. We have a modified experience for viewers using ad blockers

Wikia is not accessible if you've made further modifications. Remove the custom ad blocker rule(s) and the page will load as expected.