Krustylu Studios is the television studio in Springfield in which the Krusty the Klown Show is recorded. It is located in the vicinity of the Channel 6 studio lot. The lot is located across the street from a box factory.[1][2]
Behind the Laughter
The name Krustylu is an homage to Desilu Studios, where 1950s sitcom I Love Lucy was recorded. This name is derived from Desi Arnaz and Lucille Ball's first names.
Appearances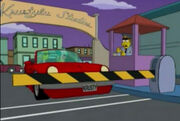 Citations
Ad blocker interference detected!
Wikia is a free-to-use site that makes money from advertising. We have a modified experience for viewers using ad blockers

Wikia is not accessible if you've made further modifications. Remove the custom ad blocker rule(s) and the page will load as expected.