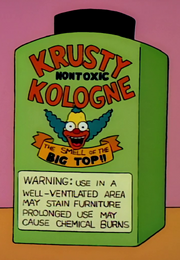 Krusty nontoxic Kologne is a grooming product .On the bottle it reads: The smell of the big top! Warning: Use in a well - ventilated area ,may stain furniture, prolonged use may cause chemical burns.
History
Bart uses some Krusty kolonge before Krusty comes to his house for dinner.[1]
Appearance
Citations
Ad blocker interference detected!
Wikia is a free-to-use site that makes money from advertising. We have a modified experience for viewers using ad blockers

Wikia is not accessible if you've made further modifications. Remove the custom ad blocker rule(s) and the page will load as expected.