"I like to play with you."
―Bart's first Krusty doll played until the battery ran out.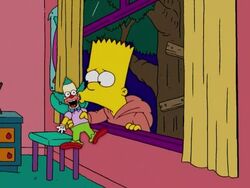 A Krusty doll is a toy doll that looks like Krusty the Clown and is part of merchandise Krusty endorses and sells.It comes in many different versions. Alot of versions have talk boxes, some have pull strings or switches and some work by squeezing the stomach.
Versions
Gallery
Appearances
Citations
Ad blocker interference detected!
Wikia is a free-to-use site that makes money from advertising. We have a modified experience for viewers using ad blockers

Wikia is not accessible if you've made further modifications. Remove the custom ad blocker rule(s) and the page will load as expected.