Ad blocker interference detected!
Wikia is a free-to-use site that makes money from advertising. We have a modified experience for viewers using ad blockers

Wikia is not accessible if you've made further modifications. Remove the custom ad blocker rule(s) and the page will load as expected.
Krusty Burger is a fast-food burger restaurant chain that was founded by Krusty the Clown in Springfield.
Krusty Burger was founded by Krusty the Clown, star of The Krusty the Clown Show.
During the Summer of 1984, Krusty Burger launched a promotion that gave free burgers to those who pick Olympic Events won by the United States on their game cards. The games involved in the promotion were games that were traditionally won by the Russians. Unfortunately for Krusty, the Russians boycott the Olympics, and the United States won almost every event, costing him $44 million. He then vows on camera to spit on every fiftieth burger as a result of his loss (with Homer in particular "liking those odds" when hearing this).[2]
One time, when Homer and Bart were trying to work as grease vendors, Homer chose after learning that the job's pay was far below what he expected, to rob a Krusty Burger of its grease and started shoveling the grease into Marge's car. Later, the Grease was stolen from them by the Acne Shovel and Grease Co.[3]
After Bart accidentally ratted out Krusty to the IRS by exposing he was one of America's biggest tax cheats, the IRS took direct control of Krusty Burger and renamed it "IRS Burger," which resulted in many of the products names being changed to fit in with the IRS (ie, "krusty burgers" to "tax burgers", an "IRSwich" with the option of holding the lettuce, "dependent-size sodas", and a "FICA-ccino"), as well as mandating that they fill out schedule B, and it taking at least six to eight weeks to get the food.[4]
After the restaurant was proclaimed the "unhealthiest restaurant in the world", Krusty decided that the restaurant should serve the "Mother Nature Burger", a vegetarian burger. Later, it turns out that the burger was made with tainted barley produced from Ogdenville, and anyone who consumed the burger received food poisoning.[5]
The restaurants are also known for cost cutting measures, such as using discount books for booster seats.[6]
Marketing
Edit
Krusty also appears to have some input into running the company, personally losing $44 million when a promotional tie-in, in which Krusty Burger was chosen the Official Meat-Flavored Sandwich of the 1984 Summer Olympic Games, backfired due to a Soviet boycott, and Krusty Burger was forced to give away much more food than expected; Krusty expressed his displeasure by stating on live television that "I, personally am gonna spit into every fiftieth burger!"
It has frequently been established that Krusty is not particularly fond of the food served, shown when recording a commercial (immediately before learning of his $44 million loss), he said, "Ewww! I almost swallowed some of the juice!" At one time, Krusty bit a Ribwich and said, "Mmm, I don't mind the taste!" In The Simpsons Movie, when filming a commercial for "The Clogger", he spits out the sandwich after they stop filming and throws the rest of it away. For the Mother Nature burger commercial, Krusty uses footage of someone else taking a bite out of the sandwich just as he looks like he's about to.
Nor does he particularly care as to the quality of the food, the service, the hygiene, employees or the poor health of his consumers. Many of his workers are foreign slaves he tricked into coming over and locks in at night, and the only emotion he had at the end of Declan Desmond's documentary about his food which had led Desmond to turning obese was happiness at the prospect of getting turned into another breakfast item.
He paid the mafia to keep other burger places that actually serve real food away, but was then beaten up for not paying them money.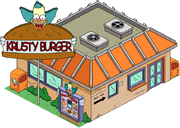 Krusty Burger
Double Krusty Burger
Deep Fried Krusty Burger
Mother Nature Burger (Discontinued)
Double Double Double Double
Meat-Flavored Sandwich
Ribwich (Limited Time Only; Discontinued)
Filly Fudge Steak (Discontinued)
Bacon Balls (Discontinued)
Whatchamachicken (Discontinued)
Fish Sandwich
Krusty-Partially-Gelatinated-Non-Dairy-Gum-Based-Beverage
Krusty Popcorn
Frosted Krusty Flakes
Whatchamacarcass Sandwich
Breakfast Balls
Gravy Scrapems
Twisty Lard
Super-Choker Burritos with Macho Sauce
Locations
Edit
Krusty Burger operates in thousands of locations across the United States including an unprofitable franchise on an unmanned off-shore oil platform, Krusty planned to close it down, but Homer, Bart, Ned, Rod and Todd came in, however it can be assumed that it was closed down soon after. A Krusty Burger was seen in the city of Paris, France.[7] There was formerly a Krusty Burger at the Fast Food Boulevard, but it was destroyed along with the entire district after a chain reaction occurred where Homer threw away a leaking Car battery which resulted in the battery juice to burn through a gas main located directly below the trash container and throwing away a lit match that ignited the gas main.[8]
United States
Edit
Non Canon Appearance
Edit
Video Games
Edit
In The Simpsons: Hit and Run, Cletus Spuckler often works for Krusty Burger, collecting roadkill for the burgers (according to Bart Simpson, it "explains the tire tracks".) Cletus also has to contend with Apu Nahasapeemapetilon, who claims that "no one can sell rotten meat in this town but me." There are seven Krusty Burgers in the game.
Virtual Springfield
Edit
On The Simpsons Virtual Springfield it is seen between Moe's Tavern and the Library, although unlike the previously mentioned locations, Krusty Burger is inaccessible in game.
Simpsons Road Rage
Edit
In Road Rage you can pick up passengers and drop them off at the Krusty Burger.
The Simpsons Game
Edit
In the level Shadow of the Colossal Donut Homer can go to Krusty Burger to get burgers to get energy for his powers.
In level 7, for $ 2,600 you get the Krusty Burger, with the character Krusty the Clown. In promoting Krustyland, there is a Krusty Burger called Krustyland.
Jobs involved
Edit
Eat at Krusty Burger - 30m
Promote a New Product - 8h
Eat at Krusty Burger - 30m
Eat at Krusty Burger - 30m
Eat at Krusty Burger - 30m
Rob the Krusty Burger - 4h
Provide Security - 6h
Flip Burgers - 12h
Behind the Laughter
Edit
Krusty Burger is a parody of the worldwide fast food chains McDonald's, Burger King, Wendy's, Jack in the Box, In-N-Out Burger, Hardee's, and Carl's Jr..
Krusty Burger's Olympics marketing gaffe in "Lisa's First Word" was inspired by the real-life "When America Wins, You Win" game at McDonald's restaurants, in which the odds of winning free food, based on the chances of the U.S. winning medals, were calculated before the Soviet Union and other communist nations withdrew from the Games, leading the United States to dominate the medals chart, and McDonald's to lose a large amount of money on the promotion.
As part of the Springfield Expansion, Universal Studios Florida will be opening a Krusty Burger which replaced the International Food and Film Festival.
A Burger King commercial featured Krusty telling the audience to not buy "The Whopper" and instead buy his deep fried Krusty Burger. He then proceeded to beg the audience stating that he was behind on seven alimonies and wearing paper bags for shoes. The Burger King mascot then appeared and offered Krusty a Whopper. Krusty then punched him and told the audience again to not buy the Whopper. The Burger King mascot rose up and proceeded to knock Krusty out with one punch.
Appearances
Edit
Citations
Edit