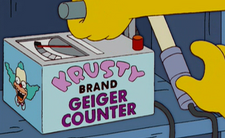 Krusty Brand Geiger Counter is a device for measuring radioactivity. It is part of merchandise Krusty endorses and sells.
History
Lisa is afraid the nuclear reactor Homer built will explode so she uses the Krusty Brand Geiger Counter to test the safety. It gives a verbal warning in Krusty's voice " That thing's gonna blow! Drop this toy and run!".
Appearance
Ad blocker interference detected!
Wikia is a free-to-use site that makes money from advertising. We have a modified experience for viewers using ad blockers

Wikia is not accessible if you've made further modifications. Remove the custom ad blocker rule(s) and the page will load as expected.