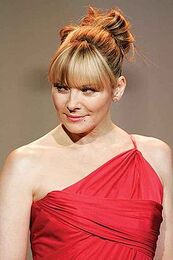 Kim Cattrall is an actress who played Marge's friend Chloe Talbot in "She Used to Be My Girl" and the imaginary fourth Simpson sister (essentially reprising her role from Sex and the City) in the episode "O Brother, Where Bart Thou?" Her most well-known role is that of Samantha Jones in the TV series Sex and the City.
Appearances
Ad blocker interference detected!
Wikia is a free-to-use site that makes money from advertising. We have a modified experience for viewers using ad blockers

Wikia is not accessible if you've made further modifications. Remove the custom ad blocker rule(s) and the page will load as expected.