Katy Perry is a famous American singer, songwriter, actress and guest star of The Simpsons.
In the show
She appeared as herself in The Fight Before Christmas. She is divorced from Russell Brand, who also appeared as himself in the Simpsons. In the episode, Katy was the girlfriend of Moe, who, like the rest of the Simpson family, was a puppet in a parody of A Muppet Christmas Carol.
On the February 5, 2015, in an update on The Simpsons: Tapped Out game, it was joked that Katy Perry was member No. 49 of the Stonecutters when No. 1 asked, "Did you like number 49's halftime show?" referring to NFL Super Bowl XLIX.
Trivia
Katy Perry is the first star who is featured in live action in The Simpsons.
Episodes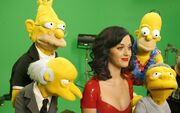 Episode – "The Fight Before Christmas" (only seen in the puppet version of the Simpsons)
External links
Citations
Ad blocker interference detected!
Wikia is a free-to-use site that makes money from advertising. We have a modified experience for viewers using ad blockers

Wikia is not accessible if you've made further modifications. Remove the custom ad blocker rule(s) and the page will load as expected.