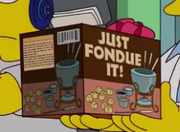 Just Fondue It! is a fondue set.
History
After founding out Edna and Ned got married, Disco Stu brought the set into Ned's ward at the Springfield General Hospital, along with other citizens of Springfield.
Appearances
Ad blocker interference detected!
Wikia is a free-to-use site that makes money from advertising. We have a modified experience for viewers using ad blockers

Wikia is not accessible if you've made further modifications. Remove the custom ad blocker rule(s) and the page will load as expected.