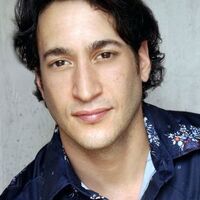 Josh Weinstein (born May 5, 1966) is an American TV writer, best known for his work on The Simpsons. Along with his writing partner Bill Oakley, whom he met when he was 14, Weinstein was Executive Producer for two seasons of The Simpsons. Together, the two wrote such episodes as "Who Shot Mr. Burns?", "Lisa vs. Malibu Stacy", and "Sideshow Bob Roberts". He won three Emmy Awards and a Peabody Award. After leaving The Simpsons, Weinstein and Oakley created Mission Hill and The Mullets.
Like many Simpsons writers, his name has been used in the show's dialogue. Principal Skinner once told an angry Superintendent Chalmers that "I know Weinstein's parents were upset, but it sounded so made-up. I mean, Yom Kippur...."
Weinstein attended Stanford University, where he was editor of the Stanford Chaparral.
Credits
Ad blocker interference detected!
Wikia is a free-to-use site that makes money from advertising. We have a modified experience for viewers using ad blockers

Wikia is not accessible if you've made further modifications. Remove the custom ad blocker rule(s) and the page will load as expected.