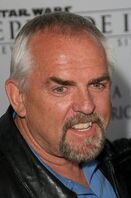 John Deszo Ratzenberger (born April 6, 1947) is an American actor. He is most famous for his role as Cliff Clavin on the sitcom Cheers, a role he reprised in the Simpsons episode "Fear of Flying". He also has his own Food Network show and has appeared in every Pixar film since Toy Story. Ratzenberger guest starred in the season 26 episode, "Treehouse of Horror XXV" during the third segment, "The Others," in which he voices a computer animated version of Homer Simpson.
Ad blocker interference detected!
Wikia is a free-to-use site that makes money from advertising. We have a modified experience for viewers using ad blockers

Wikia is not accessible if you've made further modifications. Remove the custom ad blocker rule(s) and the page will load as expected.