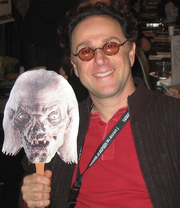 John Kassir is a guest star in The Simpsons who plays various animal sounds. He first appeared in "Marge Simpson in: "Screaming Yellow Honkers"" playing a possum and later in "Jaws Wired Shut"[1] playing the dogs in the parade. He also played the shark in Old Yeller-Belly[2]. John Kassir is best known for providing the voice of the Crypt Keeper in "Tales from the Crypt", a role he reprised in the children's animated series "Tales from the Cryptkeeper". He also did the voice of Buster Bunny in some episodes from Tiny Toon Adventures.
Citations
Ad blocker interference detected!
Wikia is a free-to-use site that makes money from advertising. We have a modified experience for viewers using ad blockers

Wikia is not accessible if you've made further modifications. Remove the custom ad blocker rule(s) and the page will load as expected.