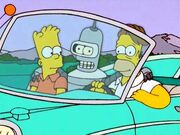 John DiMaggio is a voice actor who plays Bender in Matt Groening's second TV series Futurama. John made a brief appearance playing Bender in "Future-Drama", in which the title spoofed the show Futurama, in which Bender stars. He also voices Bender in The Simpsons Game and the voice of Gagnar the bill collector from Dave the Barbarian.
John is a retired stand-up comedian who also voices several other characters in Futurama.
Appearances
External links
Ad blocker interference detected!
Wikia is a free-to-use site that makes money from advertising. We have a modified experience for viewers using ad blockers

Wikia is not accessible if you've made further modifications. Remove the custom ad blocker rule(s) and the page will load as expected.