Jimmy the Scumbag is a small-time crook in Springfield.
Biography
Jimmy the Scumbag is a registered sex offender, once arrested by Chief Wiggum for illegal auto-dialing. He was one of a handful of criminals who were fooled by the police department's free boat give-away scam, along with Snake and Homer. Despite his criminal deeds, he starred in a commercial for Grandma Plopwell's Pudding.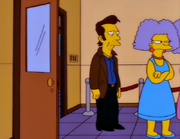 Appearances
Ad blocker interference detected!
Wikia is a free-to-use site that makes money from advertising. We have a modified experience for viewers using ad blockers

Wikia is not accessible if you've made further modifications. Remove the custom ad blocker rule(s) and the page will load as expected.