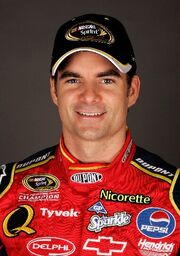 Jeffrey Michael "Jeff" Gordon is an American professional stock car racing driver. He drives the No. 24 Chevrolet SS for Hendrick Motorsports in the NASCAR Sprint Cup Series.
When Kent Brockman was interviewing Moe, Moe was listing things verbally and he mentioned Jeff Gordon and then Jeff walked by and said hello to Moe. Moe then said that he'd bet Kent Brockman that they would never see him again and then Barney said that he was going to call it a day and left.
Ad blocker interference detected!
Wikia is a free-to-use site that makes money from advertising. We have a modified experience for viewers using ad blockers

Wikia is not accessible if you've made further modifications. Remove the custom ad blocker rule(s) and the page will load as expected.