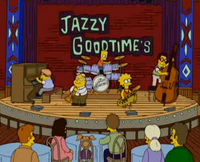 Jazzy Goodtime's is a Jazz Club located in Springfield. A children's Jazz band plays onstage during brunch hour. Customers can ask the Waiter to scat sing the menu. Lisa and Bart both visited this restaurant and Bart started to become a famous drummer after playing in the band here, and Lisa became jealous of him.
Appearances
Ad blocker interference detected!
Wikia is a free-to-use site that makes money from advertising. We have a modified experience for viewers using ad blockers

Wikia is not accessible if you've made further modifications. Remove the custom ad blocker rule(s) and the page will load as expected.