Ad blocker interference detected!
Wikia is a free-to-use site that makes money from advertising. We have a modified experience for viewers using ad blockers

Wikia is not accessible if you've made further modifications. Remove the custom ad blocker rule(s) and the page will load as expected.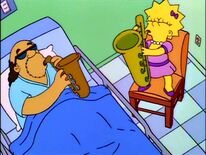 Jazzman is a song from the episode "'Round Springfield" by Lisa and Bleeding Gums Murphy while he is in the hospital bed. It is a cover of the song of the same name by Carole King. It was written by Al Jean and Mike Reiss.
Lisa and Bleeding Gums first play it in the hospital. When Bleeding Gums passes away, his cloud form plays the song one last time.
Lift me won't you lift me
Above the old routine
Make it nice
Play it clean
Jazzman!
When the Jazzman's testifyin',
A faithless man believes.
He can sing you into paradise,
Or bring you to your knees.
Jazzman, take my blues away,
Make my pain the same as yours
With every change you play.
Jazzman, oh, Jazzman.
Behind the Laughter
Edit
It is a cover of the song of the same name by Carole King