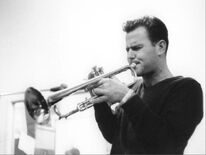 Jack Sheldon (born 30 November 1931) is an American jazz trumpeter, singer and actor. He guest starred in the episode "The Day the Violence Died", as the voice of the Amedment in the "Amendment to Be" clip. The scene was a parody of the popular Schoolhouse Rock song "I'm Just a Bill", which was originally performed by Sheldon.
Status
Gender
| | | |
| --- | --- | --- |
| | D'oh! | This article is a stub. You can help the wiki by embiggening it. |
Ad blocker interference detected!
Wikia is a free-to-use site that makes money from advertising. We have a modified experience for viewers using ad blockers

Wikia is not accessible if you've made further modifications. Remove the custom ad blocker rule(s) and the page will load as expected.