It Came from the '70's
is the main plotline in
Simpsons Comics 175
.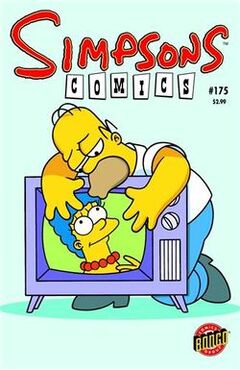 Plot
Homer Simpson has destroyed Disco Stu's complete collection of '70's videotapes in an incident involving a garage. Soon brought in court, Homer's forced to tell the court about TV shows or movies in the 1970s. First, comes a Simpson-ized version of The Muppet Show. Then, is a Simpson-ized version of Little House on the Prairie. Lastly, is a Simpson-ized version of The Dukes of Hazzard. After all the stories, most of Springfield wants more stories.
Ad blocker interference detected!
Wikia is a free-to-use site that makes money from advertising. We have a modified experience for viewers using ad blockers

Wikia is not accessible if you've made further modifications. Remove the custom ad blocker rule(s) and the page will load as expected.