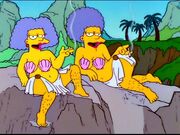 Island of Sirens is a song from the episode Tales from the Public Domain. It is a parody of the Barry Manilow song "Copacabana" written by Jack Feldman, Manilow, and Bruce Sussman. The parody lyrics were written by Andrew Kreisberg. It is the ninth track on the album The Simpsons: Testify.
Lyrics
On the island,
Island of sirens,
Our hot sex will leave you perspirin'.
Hey, that's kind of catchy.
Carl:
It's comin' from that island. Let's steer heedlessly towards it.
Lenny:
Heedlessly it is!
Patty and Selma:
The feta is cheesy,
The sirens are easy...
Boy, if they kiss as good as they lure... Wow!
Patty and Selma:
On the island,
We'll sex you up!
Island of sirens.
Homer:
Oh, God, they're hideous!
Apu:
Woof!
Carl:
Uff!
Lenny:
Someone gouge my eyes!
Someone save me from the LAY-DEES!