I Love Lisa
Talk

1
17,386 articles being
edited here
"I love Lisa Simpson, and when I grow up I'm going to marry her!"
"I Love Lisa" is the fifteenth episode of Season 4. It first aired on February 18, 1993. The episode was written by Frank Mula and directed by Wesley Archer.
On Valentine's Day, Lisa takes pity on Ralph and gives him a valentine when she sees that he hasn't received any. But Ralph reads too much into Lisa's gesture and, much to Lisa's dismay, relentlessly pursues her.
On Valentine's Day in Springfield, Lisa's class begins constructing paper mailboxes for all the cards they are about to receive. When Ralph gets no cards and begins to cry, Lisa hastily gives him a card out of sympathy. Ralph immediately cheers up, and develops a romantic interest in his classmate.
Ralph begins to annoy Lisa at every turn, following her home and discussing his medical maladies. Lisa tries to escape the situation, but Ralph uses his position as the police chief's son to get her tickets to Krusty's upcoming 29th Anniversary Special, as well as a leading part for himself in a President's Day Pageant in which Lisa also stars. In a dramatic upset, Ralph received the role of George Washington in a segment about that president's life, beating out an obviously more talented classmate named Rex, who complains to no avail. Conveniently, Lisa as Martha Washington will be Ralph's "wife." While claiming to Rex the casting was fair, Miss Hoover then opens and closes the window shade as a signal which reveals that Chief Wiggum had blackmailed her with a "boot" that was placed on her car.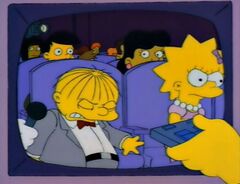 With
Homer
having convinced Lisa that nothing can go wrong at Krusty's show, Lisa and Ralph go together. When Lisa asked how Chief Wiggum managed to get tickets for the 29th Anniversary Special, Wiggum responds with "Krusty knows how to play ball", implying that he got the tickets as a result of a bribe from Krusty after the latter was busted inside of a porno movie theater. On live air, Krusty begins interviewing audience members, and Ralph takes the opportunity to declare that Lisa is the love of his life and that he intends to marry her. Angry, Lisa tells Ralph they are not in any relationship, and she never liked him, and that the only reason she gave him a valentine was because she felt sorry for him. Bart replays the incident for Lisa later on videotape, and seeing how hurt and humiliated Ralph is causes Lisa to feel guilty over how badly she treated him.
An upset Ralph bemoans his situation to his father, but the only way Chief Wiggum can respond is to break out Homer's tail light after a traffic stop. However, Wiggum is quickly at a loss when Homer says that one day honest citizens will rise up against corrupt cops.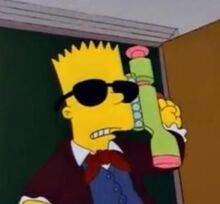 The night of the President's Day Pageant finally arrives and Lisa tries to take the opportunity to apologise to Ralph however he refuses to listen. Bart cuts up as usual, making up his bottom to look like Richard Nixon and then mooning the other students in the play. One group of students sings about the lesser-known U.S. Presidents, and Bart plays John Wilkes Booth assassinating Abraham Lincoln (played by Milhouse). Bart, however, is still in prank mode, and models his performance on The Terminator rather than on the real Booth ("Hasta la vista, Abey!"). Not impressed by his shenanigans, Skinner removes Bart and punishes him off screen. The main feature is a re-telling of George Washington's life story, and, surprisingly, Ralph proves to be a very good actor in the role of George Washington, inspiring the school bullies to study American history. (Rex ends up playing George Washington's servant, and has just one speaking line.) Ralph's performance even causes Groundskeeper Willie to start crying. The play ends with an animatronic Mount Rushmore singing one of the stanzas of "America The Beautiful", as well as giving away final stage announcements to the audience.
Afterward, Ralph signs autographs and greets well-wishers. Lisa also approaches, and gives him a new card, reading "Let's bee [be] friends." Ralph thanks Lisa while Chief Wiggum watches his son and Lisa sitting together on the swings over the music of the Monster Mash.
Citations
Edit