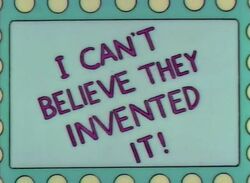 I Can't Believe They Invented It! is an informercial TV show. Troy McClure is the host of the show. While Homer was watching it, Dr. Nick Riviera appeared with his invention, Spiffy, the 21st century dust remover. Also is wached by Homer in the episode Marge in Chains.
Appearances
| | | |
| --- | --- | --- |
| | D'oh! | This article is a stub. You can help the wiki by embiggening it. |
Ad blocker interference detected!
Wikia is a free-to-use site that makes money from advertising. We have a modified experience for viewers using ad blockers

Wikia is not accessible if you've made further modifications. Remove the custom ad blocker rule(s) and the page will load as expected.