I, (Annoyed Grunt)-Bot (also referred to as I, D'oh-Bot), is the ninth episode of Season 15.
Synopsis
Bart and Homer enter a Robot Rumble competition. Meanwhile, Snowball II dies after getting hit by a car and Lisa tries to replace her.
Full Story
While riding bikes with Milhouse, Bart realizes his bike is horrible. He smashes it with Dr. Hibbert's hummer car in order to get a new one. When Bart and Homer go buy a new one, they realize it needs to be built first. Homer builds it, but when Bart starts riding the bike, it breaks apart. Feeling miserable, Bart tells Homer that he can't build anything. Homer tries to prove him wrong by building a robot, but it falls apart as well. He remembers something Grandpa mentioned: "If you can't build a robot, be a robot." He then dresses up like the robot and Bart enters him, not realizing it is Homer, in the Robot Rumble contest. Homer gets injured during every match, but he takes the pain for his son's love. When it comes to the final match, Chief Knock-A-Homer has to face a giant robot built by Professor Frink; the robot gets smashed and Homer comes out. Frink's robot doesn't smash him because it is programmed not to harm humans. Homer then gets disqualified for being a human impersonating a robot.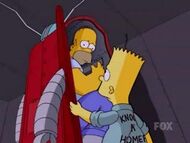 Sub Story
Meanwhile, Snowball II gets run over by Dr. Hibbert's car and is killed. After Marge reads the book When Bad Things Happen To Cute Children, she and Lisa go to the animal shelter and adopts a new cat. Unfortunately, Snowball III (pictured above) drowns trying to catch fish in the Simpsons' fish tank and Coltrane, aka Snowball IV, commits suicide by falling out the window after listening to the music of the original musician John Coltrane. When Lisa and Marge try to get another cat (yet again), the owner of the cat sanctuary refuses to give Lisa anymore cats. While sitting outside, the Crazy Cat Lady throws a cat at Lisa that looks exactly like Snowball II. Lisa sends it away, thinking it will die if it is with her. When the cat walks away, a car, owned by Gil is about to hit it, but the car misses and drives into a tree and explodes. Observing that the cat didn't get run over, Lisa takes it in. In order to save money on food dishes and to forget any of these tragedies ever happened, she names it Snowball II, even though it is technically Snowball V. When Principal Skinner sees and criticizes this, Lisa reminds him of his other name "Tamzarian," so Skinner accepts this.
Behind the Laughter
Production
The episode marks a milestone in the history of the series, as Snowball II is killed off, the closest thing to an actual Simpson family member actually being killed off (besides the passing of Mona Simpson in Season 19's "Mona Leaves-a").
Reception
Citations