Hyman Krustofsky
Talk

10
9,899 articles being
edited here
Rabbi Hyman Krustofsky is Barbara Van Horne and Krusty the Clown 's Jewish father.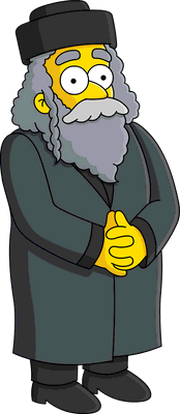 Hyman Krustofsky was born on June 7, 1933. He became a respected Rabbi in Springfield's
Lower East Side
. He had a son,
Herschel Krustofski
, who wanted to become a clown instead of a Rabbi, against his father's wishes. Hyman abandoned Herschel after he saw him perform as a clown on stage.
David Meaux
Years later, Bart Simpson and Lisa Simpson found out about the estrangement between Hyman and Herschel (now better known as Krusty the Clown) and waged a campaign to convince Hyman to reunite with his son by quoting passages of Jewish scripture. After several attempts, Bart finally convinced Hyman by quoting Sammy Davis Jr.. Hyman met his son backstage on The Krusty the Clown Show, and the two embraced after many years. Hyman Krustofsky appeared in front of the audience playfully throwing a pie at Krusty.[1]
Krustofsky was later visited by Homer Simpson who requested $50,000 (as he needed the money for a quadruple bypass), causing him to react with shock and implied refusal (although he did give Homer a dreidle instead).[2]
When his son decides to get a Bar Mitzvah, Rabbi Krustofsky said he never gave Krusty one because he wouldn't take the ceremony seriously. Homer was given a show during Krusty's time-slot and it was so popular that |Krusty's show was cancelled. In a move of desperation, he decided to televise his Bar Mitzvah. It proved to be extremely successful, but disappoints Hyman. Krusty then decided to have a real Bah Mitzvah in a real Shul, which pleases his father.[3]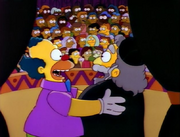 Behind the Laughter
Edit
Jackie Mason voices the character in "Like Father, Like Clown", "Today, I Am a Clown" and "Once Upon a Time in Springfield". All other appearances are voiced by Dan Castellaneta.
Mason won an Emmy Award for his performance in "Like Father, Like Clown".
Appearances
Edit
References
Edit