Hurricane Barbara
was a
hurricane
that ravaged
Springfield
.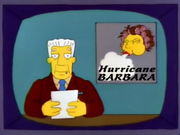 Background
Hurricane Barbara was first detected by Lisa. Then Santa's Little Helper warned Homer about it. Last Scientist figured it out and Kent Brockman made an announcement on the news.
Destruction
Buildings
People
Aftermath
In the end Barney's is reopened on the top of the Carter-Dixon Tunnel. And the Flander's home is rebuilt, even though it was horribly built and Ned lashed out at all of the Springfield residents, including his neighbor, Homer before he goes to the
Calmwood Mental Hospital
to see
Dr. Foster
for help with his anger.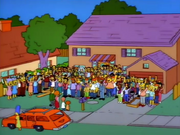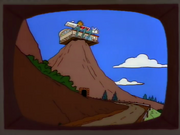 Appearances
Ad blocker interference detected!
Wikia is a free-to-use site that makes money from advertising. We have a modified experience for viewers using ad blockers

Wikia is not accessible if you've made further modifications. Remove the custom ad blocker rule(s) and the page will load as expected.