Hugo Simpson II
17,890 articles being
edited here
Talk

5
Hugo Simpson

Sex
Status
Hair
Messy blonde spikes
Relatives
Parents: Homer and Marge Simpson


Twin Brother: Bart Simpson
Sisters: Lisa and Maggie Simpson and an unnamed sister (non-canon)
Half-brother: Bartie Ziff (non-canon)
Grandfathers: Abraham Simpson and Clancy Bouvier
Grandmothers: Mona Simpson and Jacqueline Bouvier(one living, one deceased)
Aunts: Patty, Selma and Abbie Simpson
Half Uncle: Herbert Powell
Adoptive Cousin: Ling Bouvier
Great-Uncles: Bill, Chet, Tyrone, Hubert and Cyrus Simpson, Herman, Arthur, Chester, JoJo Bouvier
Great-Aunts: Gladys Gurney, Kari Olsen and Cyrus's 15 wifes
Step-grandparents: Alisa and Kevin
Great-Grandfathers: Orville Simpson, Jay Olsen, Pépé Bouvier and Ferdinand Gurney
Great-Grandmothers: Yuma Hickman, Janet Olsen, Bambi Petitbois and Alvrine Bisque


First Appearance
"Treehouse of Horror VII"
Voiced By
Nancy Cartwright
"I made a Pigeon-rat."
―Hugo.
Hugh Stephan "Hugo" Simpson II is a non-canon character and Bart's conjoined twin in Treehouse of Horror VII. Shortly after their birth, they were separated by Dr. Hibbert.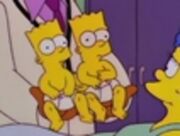 Bart, Lisa, and Maggie discovered Hugo after they heard strange sounds coming from the attic and after Homer spilled the beans about there being four Simpson children, As the "evil twin," Hugo had been consigned to living in the attic of the Simpson home and once a week was given a bucket of fish heads to eat because he was the evil one. Hugo also did experimental surgery to prepare for his eventual reattachment to Bart, and created a "Pigeon-Rat" in the process. The family later learned, however, that Bart was actually the evil twin, as Hugo's scar from when he and Bart separated was on the wrong side. Bart then took Hugo's place in the attic and was fed fish heads, while Hugo moved downstairs to live with the family. Bart was let back down in the family after the dinner scene with Hugo sitting at the table.
He was believed to be the evil twin but found out he was the good twin.
In "Brother's Little Helper", when Bart was driven into paranoia due to Focusyn and went berserk, his facial appearance strongly resembled Hugo Simpson.
He is likely named after his, Bart, Lisa and Maggie's great-great-great uncle Hugo Simpson I, whom he and Bart heavily resemble.
He bears a resemblance to Quasimodo, the deformed bellringer from the novel The Hunchback of Notre-Dame, which was written by Victor Hugo. Who coincidentally Hugo shares his first name with.
His favorite food is fish heads (not like he had ever had anything else to eat before). He even got a plate of fish heads and a glass of milk when meeting Bart.
The Chalkboard gag for The Homer They Fall is "I am not my long-lost twin," possibly referencing Hugo.
In "The Girl Who Slept Too Little" when Bart is being dug into the ground, he resembles Hugo.
He seems to be based on Belial from the movie Basket Case as they were both born as Siamese twins who were separated at birth from their twin causing resentment and want to be reconnected with their twin.
Video Games
Edit
In this 2003 video game, Hugo is one of the character costumes for Bart.
During the 2014 Halloween Event of the app-based game, Hugo was one of the craft prizes and had his own questline.
Appearances
Edit
Simpson family
Simpson Family

Homer Simpson •

Marge Simpson •

Bart Simpson •

Lisa Simpson •
Maggie Simpson •


Santa's Little Helper •

Snowball V
Homer's living relatives

Abe Simpson •

Abbie •

Herbert Powell •

Tyrone Simpson • Dr. Simpson •
Cyrus Simpson •

Chet Simpson • Stanley Simpson • Bill Simpson • Frank Simpson • Cyrus's 15 wives
Marge's living relatives

Jacqueline Bouvier •

Selma Bouvier •
Patty Bouvier •
Ling Bouvier •

Jub-Jub
Homer's deceased relatives

Amber Simpson

Mona Simpson • Hubert Simpson •

Hortense Simpson
Orville Simpson • Bonita Simpson • Elrita Simpson • Twitta Simpson •

Yuma Hickman

"Old Tut" Simpson •
Gaston Simpson • Hugo Simpson • Dulcine Simpson • Lou Simpson • Floyd Simpson •

"Happy" Simpson

Howland Simpson • Zeke Simpson • Pippa Simpson •
Gabby Crouse

Garwood Simpson • Ivy Simpson • Galston Simpson • Prudence Simpson • Trixie Simpson •

Clowta Stillman

Rupert Simpson •

Lambert Simpson •

Winifred Running Goat • Humphrey Little Goat • Jane Nervous Goat


Sven Simpson •

Claretta Ethridge • Mary Frowning Cloud • Joe Puffing Goat
Marge's deceased relatives
Clancy Bouvier • Gladys Bouvier • Alvarine Bisque • Arthur Bouvier • Alfreda Bouvier II • Françoise Billout • Antoine Bouvier • Axel Bouvier • Bambi Bouvier • Charlene Bouvier • Chester Bouvier • Dorothé Bouvier • JoJo Bouvier • Monique Bouvier • Pépé Bouvier • Victor Bouvier • Victor Bouvier II • Cléo Bouvier • Didi Bouvier • Ferdinand Gurney • Gladys Gurney • Honoré Bouvier • Alfreda LeDoux • Angelique Marceau • Marcel Bouvier • Bambi Petitbois • Pierre Bouvier • Rowena Bouvier • Yves Bouvier
Non-canon Characters

Hugo Simpson • Maggie Jr. • Bart Simpson, Jr. • Bart's Elder Son • Bart's Younger Son • Captain Kidney Pie • Colonel Custard • Maggie's Husband • Man O' Pies • Pieman of the World • Señor Fritatta • Zia Simpson
Other Pets
Bart Junior • Chirpy Boy and Bart Junior • Coltrane • Duncan • Greyhound Puppies • Henry the Canary • Laddie • Lou • Mojo • Pinchy • Plopper • Princess • Smiley • Snowball I •

Snowball II • Snowball III • Snowball V • Snuffy • Stampy • Strangles • She's the Fastest