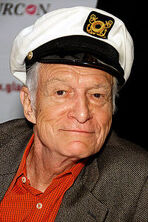 Hugh Hefner, often referred to as "Hef," is the founder and owner of Playboy magazine. He is most famous for his sophisticated lifestyle and is often seen in his Playboy mansion in a red robe.
Hefner appeared as himself in the episode Krusty Gets Kancelled and also appears as one of the interviewees of The Simpsons 20th Anniversary Special – In 3-D! On Ice!.
Ad blocker interference detected!
Wikia is a free-to-use site that makes money from advertising. We have a modified experience for viewers using ad blockers

Wikia is not accessible if you've made further modifications. Remove the custom ad blocker rule(s) and the page will load as expected.