Howard's Flowers is a flower shop in Springfield. Its roses are so expensive that Homer buys just one rose for Marge.[1] Howard, the owner and florist of Howard's Flowers, passed away in 1999 and was replaced by his son.[2]
Trivia
There is a massive time between appearances of this shop, it first appeared in episode 13 and again in episode 435, making it approximately 19 years between appearances.
Howard's Flowers can be bought in The Simpsons Tapped Out.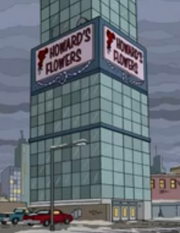 Non-Canon Appearances
As Kearney Zzyzwicz drives through Springfield with Maggie in his taxi, he passes the First Church of Lard Lad and an incorporated Howard's Flowers.[3]
Appearances
Citations
Ad blocker interference detected!
Wikia is a free-to-use site that makes money from advertising. We have a modified experience for viewers using ad blockers

Wikia is not accessible if you've made further modifications. Remove the custom ad blocker rule(s) and the page will load as expected.