Hoppy is Duffman's pet parrot.
History
Hoppy went to play with Maggie and helped her rescue an opossum from Cletus Spuckler and his family. His owner, Duffman was sad because he thought Hoppy escaped and was happy when Hoppy flew back into their home thru the window. Hoppy then repeated a line he had hear from Cletus in Cletus' voice saying "Hey Brandine ,put out the fancy possum china." Duffman then said "I've hear of wanting a cracker but becoming one? Oh,no!".
Appearance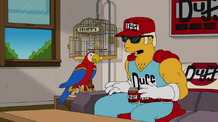 Ad blocker interference detected!
Wikia is a free-to-use site that makes money from advertising. We have a modified experience for viewers using ad blockers

Wikia is not accessible if you've made further modifications. Remove the custom ad blocker rule(s) and the page will load as expected.