Homie the Clown
Talk

0
17,220 articles being
edited here
"How about letting me go double or nothing on the big opera tonight?"
"OK. But we're only letting the bet ride because you crack us so consistently up."
"Homie the Clown" is the fifteenth episode of Season 6 and aired on February 12, 1995. The episode was written by John Swartzwelder and directed by David Silverman.
After spotting a billboard for clown college, Homer cannot resist and upon becoming an official Krusty the Clown impersonator Homer runs into some trouble with the mob.
Full Story 
Edit
Krusty's extravagant lifestyle is eating into his profits. Along with this, he owes money to the mob. His accountant informs him that he will be bankrupt in a month, and suggests opening up a Clown College, to train people to act as him for various events and functions.
It just so happens that a billboard of the new clown college catches Homer's eye. Unable to get the image out of his head, he decides to join. After graduating, Homer shows up for various Krusty events, but soon tires of the prat falls and punchlines. Homer then finds that his similarity to Krusty allows people to assume he is the real clown, and ends up getting free stuff and kickbacks.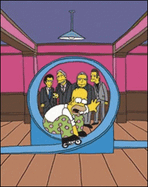 Meanwhile, Krusty is in trouble with Fat Tony, and manages to escape by pretending to go to the toilet. Tony and his goons see Homer attempting to purchase a vehicle, and tries to shoot him but miss and end up shooting the car, they then go away to get more bullets. Later they see Homer at his house trying making holes in his cars due to what the car salesman said earlier. Tony's man tries to shoot him but ends up shooting Ned Flanders twice but he was protected by his Bible and a piece of the cross he wore around his neck so they then kidnap Homer. Back at their legitimate club Homer is forced to perform a trick or else he dies Homer fails and is about to be shot when the  real Krusty shows up, and he is in trouble. Krusty and Homer are for forced to perform the same trick together. They manage to it, and are a success. Homer is freed and Krusty pays the mob a $50.00 and gets $2.00 change paying a total payment of $48.00.
Citations
Edit